Free Seminar: How to Improve Healthcare Quality and Throughput
Is your organization facing below problems?

Medical disputes caused high expenses

Losing patient/customer's confidence to service quality

Decreasing profits

Declining competitiveness

Not understand actual needs of patient/customer

Lean Six Sigma can help your organization to:

Provide systematic and standardized ways to reduce medical defects

Improve medical work flow and staff morale

Achieve zero-defect service quality

Reduce operational costs

Increase market share with a good reputation

Improve quality management continuously to maintain competitiveness

Set an excellent quality management system based on customer needs
Seminar Content
1. The current issues of Healthcare Management
2. The possible root causes of these issues
3. The possible solutions
4. A holistic approach of healthcare improvement
5. Case examples
6. Q & A
Objectives of Seminar
To share successful experience of deploying Lean Six Sigma in Healthcare and introduce the right tools for organizations to: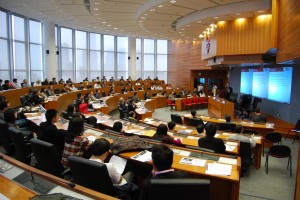 a) Reduce medical defects
b) Improve service quality
c) Increase patient / customer satisfaction scores
d) Increase profit / reinvestment
e) Enhance human resources efficiency, and
f) Build continuous improvement culture
Welcome below audiences from Healthcare to attend:
– Administration and Management Executives;
– Second tier management;
– Process Improvement Staff;
– Organization Training Officer
Date: 28 Sep 2012(Fri)
Time: 3:00 – 5:00p.m.
Location: Unit 1627A, 16/F., Star House, 3 Salisbury Road, Tsim Sha Tsui
Enrollment
Please complete and submit below enrollment form. If you cannot view the form, please download here and send the completed form via email to [email protected] / fax to 2581 2776.